Xytex Cryo International Celebrates 40 Years!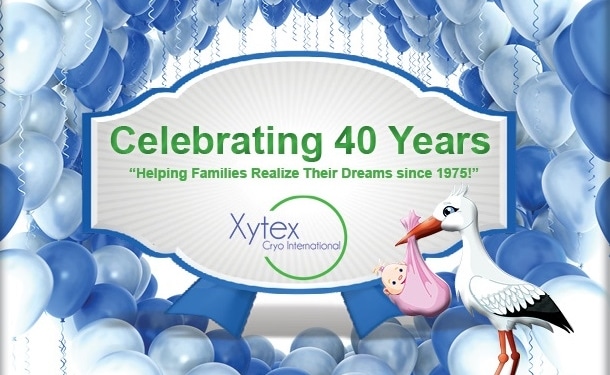 Xytex Cryo International, an industry leader in reproductive services, is celebrating 40 years of unsurpassed commitment to quality and a commitment to providing our clients with an experience that provides empathy and guidance. At Xytex we understand that we could not have accomplished this success without our customers, donors, vendors, fertility professionals and employees.
Dr. Armand Karow, working with Roy Witherington M.D., established at the Medical College of Georgia, the first clinical sperm bank in the southeast. In 1975 the sperm bank was incorporated as Xytex Corporation Inc., which evolved under Dr. Karow's direction to become Xytex Cryo International Ltd., a global leader in assisted reproduction that includes a sperm bank, egg donor program, long-term medical tissue storage and cord blood banking. Although Dr. Karow passed away in 2007, he would be pleased that Xytex is now 100% employee owned.
At Xytex, our most valuable assets are our employee owners. Knowing they have ownership in the company provides Xytex employees with a sense of pride in all aspects of the work they do, enabling them to provide unsurpassed customer service to our clients since our employee owners are motivated to provide excellent customer service and a commitment to producing a quality product.
Dr. Michael Tucker, our Chief Executive Officer noted, "While there has been so much change that has occurred during the past four decades, the excellence of our service has remained the same. Xytex Cryo International, one of the earliest established cryo-banks in the world, continues to provide quality and value across a range of services, and, additionally, is an amazing fully employee-owned company to work for!"
Kevin M. O'Brien, our company President noted, "The business of Xytex is people – people eager to share their specialized knowledge in an empathetic manner with patients who are making life-altering decisions regarding reproductive options, tissue preservation and cord blood management."
Xytex's Chief Operating Officer, Dr. Jan Schöler said, "Xytex Cryo International is one of those amazing companies that has grown and flourished due to the hard work and dedication of its employees. The quality of the work, customer service and leadership are, bar none, the best I've experienced in over 30 years of work in the medical reproductive field. After only a relative short tenure with the company, I look forward to many more productive years."
Thank you to our customers and donors, both past and present, for giving us the opportunity to provide you with the best service possible. To those with whom we have not yet had the pleasure of working with, thank you for taking the time to read our story. We hope that one day we can help you with your reproductive health.
We would like to give back to everyone that helped us make it to this great milestone. Every month this year we are going to give a lucky person a chance to win a gift. Please visit our Facebook page for more details. Again, thank you to everyone that helped us hit our 40th!